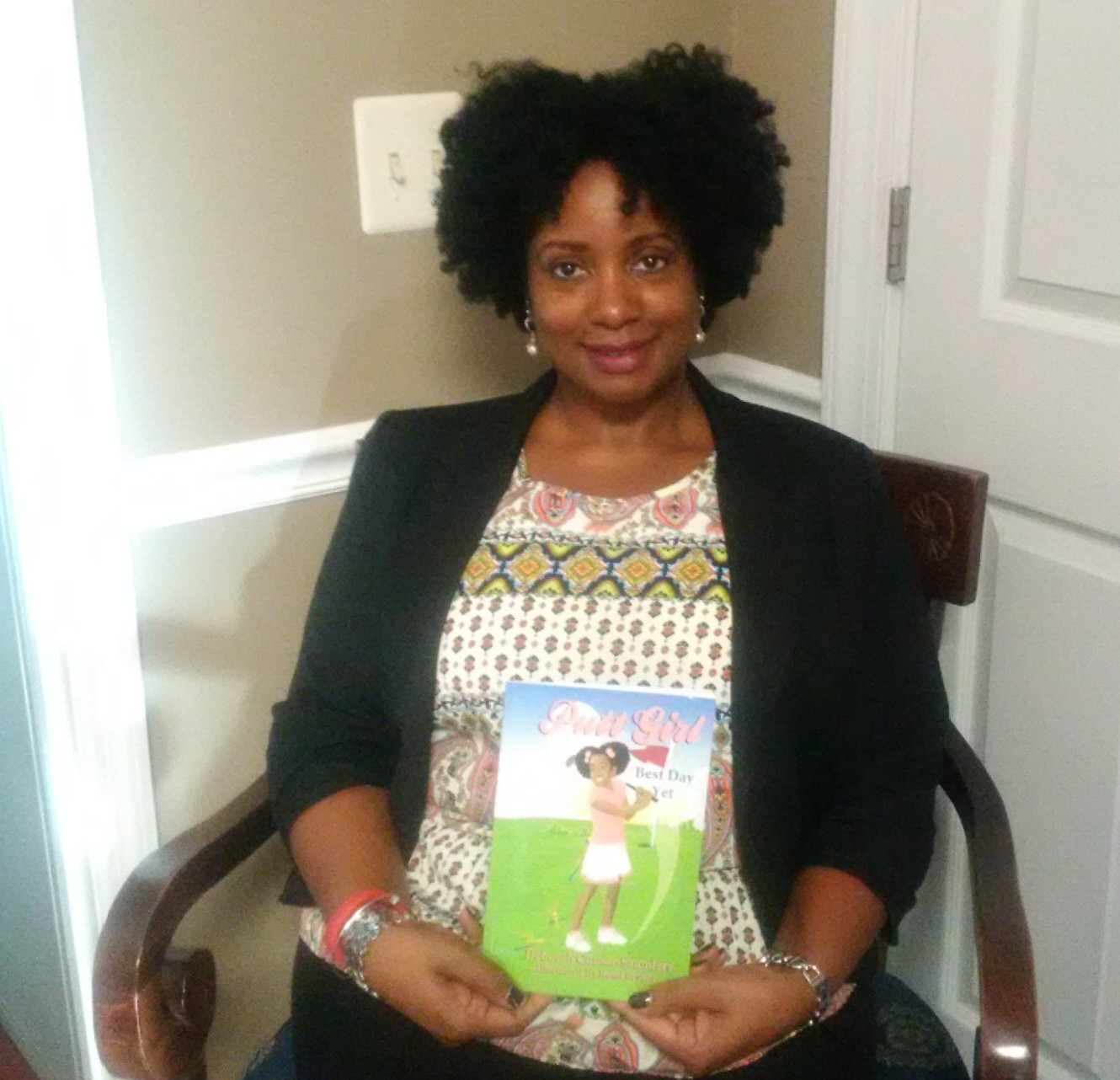 Well, here I am …. Deborah Cousar-Saunders, the original Putt Girl on a mission to bring golf and the love of the game to children. Growing up, I always loved reading books and I wanted to write stories just like the people who wrote the books I read. Going to the library or a bookstore was the highlight of my week. When I was in elementary school, I remember competing in a contest to see who could read the most books out of all the students in the school and I won.J I read biographies, fiction, non-fiction, the newspaper, magazines, cereal boxes…anything with words on it, I read. Reading was a way of escaping into another world.
I always had a big imagination and reading helped it grow even more. I collected notebooks so I could fill them up with my words, stories I created. My mother and many of my teachers encouraged my writing and felt I had a gift with words. I never went anywhere without a writing utensil and notebook, just in case an ideal for a story popped in my head.  And believe it or not, I still do that!
You might say that "Putt Girl" is MY story. I always wanted to play golf, like my dad. He taught me how to play and encouraged me every step of the way. I worked very hard and as I progressed with my skill level, training became more rigorous. When school was out for the summer I would hit over a hundred golf balls into a golf net in my back yard first thing in the morning. After, my mother would drop me off at the golf course and I played 18 holes. Once my dad got off work, he would meet me at the golf course and I would play another 18-27 holes, and afterwards we would spend an hour or more at the putting green. Growing up in Westchester County, New York, our golf season did not extend into the winter months but often I remember practicing with frost on the ground and sticking my hands in my dad's jacket pocket to keep them warm.
I competed in hundreds of tournaments, was a member of the Junior Professional Golf Association, lettered in golf in the 8th grade, was the only girl on a team of 14 boys and was the number one player from grades 10-12. I also learned from one of the top pros in Westchester County and at the age of 17, he felt I had the ability to teach and one day become a professional on the LPGA tour. I earned a college scholarship to play golf at Winthrop University.  And although I never competed professionally, what a great opportunity the game of golf afforded me! I learned so much from golf and I'm very thankful.
Writing the Putt Girl Book series has allowed me to combine two of my favorite things, golf and writing. My wish is that the book series will serve as a tutorial to young readers who have an interest in golf but don't know how to play. My wish is that the Putt Girl Book series will be an inspiration to young girls and boys who are interested in the game of golf, most especially to children who have never been exposed to it, but who want to learn and could excel at the sport with encouragement. My goal is to encourage young readers to think outside the box, try something new, and also to find joy in reading and writing.
Deborah

Putt girls love to learn, are confident, set goals, are fearless, love to have fun and Putt Girls never give up!
Putt girls love to learn, are confident, set goals, are fearless, love to have fun and Putt Girls never give up!